Toadstools by Sue Cherry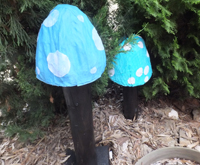 These toadstools are another design from Sue Cherry for her fairy garden essentials collection. By making various sizes in different colours from the one tutorial you can brighten up any area of your garden and put a smile on the face of any child who spies them. Some woodworking skills are required to get the base and post connected. You will need to use an electric drill for both masonry and timber drilling, also a hammer to hold the toadstool head to the post. The remainder of the construction requires the use of Paverpol and is described in detail with lots of photos to help you. Sue's fairy garden is filling up now. Have you seen her informative tutorials for the snail and rock candy flowers? Also look out for fairy friends tutorial, a trio of fun critters for the fairy garden, which will be available from mid August.

Price for this tutorial is $10 USD
This tutorial is copywritten for private use only. The purchaser may not resell this pattern or allow it to be used for mass production. The purchaser may make and sell the snails.