Giant Snail by Sue Cherry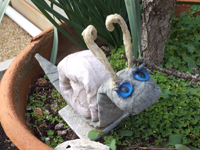 Welcome to this pdf tutorial for the construction of a super-sized snail. Sally is part of my "Fairy Garden Essentials" collection of fun things to have in a fairy garden area. To make the snail you will only have to use a pair of pliers to cut the wire, no other tools or skills are needed, so it's a great project to share with children. As with all of the pieces in this collection, I have given one size for measurements and quantities and full instructions and colour photographs for the beginner to follow however this piece lends itself to being increased in size as you gain confidence with the use of Paverpol. Use different materials than specified to create a bit of fun.

Price for this tutorial is $10 USD
This tutorial is copy written for private use only. The purchaser may not resell this pattern or allow it to be used for mass production. The purchaser may make and sell the snails.