Fabric Rose Paverpol tutorial by Tracey Lipman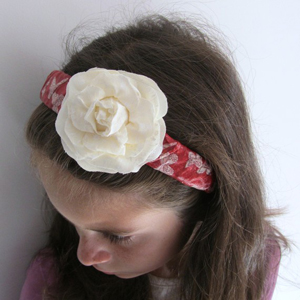 Learn to make fabric roses with this step by step full color tutorial. The tutorial includes three different shape petal templates which can be used to make three different flowers or mixed and matched for fun variations.

Learn to put a stem on your rose for a floral display or how to make a fabric covered headband to attach your roses to.

Lots of possibilities, lots of fun, lots of color photos. 20 pages and 47!! step by step color photos to help your imagination bloom.

This tutorial uses Paverpol Transparent liquid. There is a comprehensive introduction to Paverpol and tips and suggestions suitable for beginners or experienced Paverpol users. There is also a section devoted to fabric, advising you how to make fabric choices for your flowers.
Price for this tutorial is $9.95 USD