Paverpol Wall Doll pdf tutorial by Tracey Lipman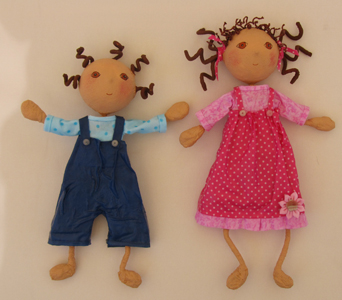 In this pdf tutorial Tracey will teach you how to make these adorable wall dolls using Paverpol fabric hardener and low cost and recyclable materials. You will learn to make a 3D armature from a cereal box!

Tracey has included a detailed introduction to Paverpol, suitable for a beginner with tips and techniques to make you feel like a pro. She will show you options to personalize your dolls and techniques you can use for other projects. The tutorial includes a section on hairdressing options and even includes a section showing you how to make a fabric flower as decoration.

53 pages of step by step instructions and 162!!! color photographs, this tutorial is packed with information and ideas to get your creative juices flowing and gives you the skills to implement your ideas.

Each of the dolls in the tutorial measure approximately 11 inches. 500g of Paverpol Transparent will be enough to make the boy and girl doll pictured. You can dress them in fabric scraps or your favorite fat quarters.
Price for this tutorial is $25 USD